Have a heart: save a life: CPR Certified!
Did you know that effective bystander CPR provided immediately after sudden cardiac arrest can double or triple a victim's chance of survival? Unfortunately,so few people are equipped to perform CPR that only 32% of victims receive the immediate CPR needed until first responders arrive to help. 
The Columbus Chapter did something to change that. On June 15th we invited Chapter Members to become CPR Certified for free for our June Unified Promise.
We are so excited by the turnout for this event, where 18 individuals were able to become CPR certified. Chapter Members were able to learn CPR, AED usage and other life saving skills such as the heimlich maneuver. A big thank you to our instructor, Chris Biasella, for being such an excellent teacher. 
By getting 18 individuals CPR certified we have given them the tools and knowledge to save a life in the future!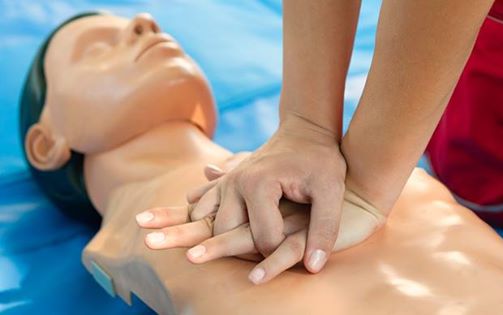 Dance with Disability: Luau Party
Volunteers joined the Franklin County Recreation residents for a night of fun, food and dancing. Together 15 volunteers and close to 75 residents dressed up in leis and grass skirts and hit the dance floor. Residents and volunteers enjoyed pizza and a live DJ at our Friday Night Luau Party. Guests played limbo and enjoyed one another's company. Many of these residents do not get the socialization that many of us do, so we were so glad to be able to spend a Friday night creating memories with them.
A big thank you to everyone who attended this event and helped us make a difference in the lives of these residents. We have heard nothing but great reviews about this Unified Promise and we are so happy to hear everyone enjoyed it so much!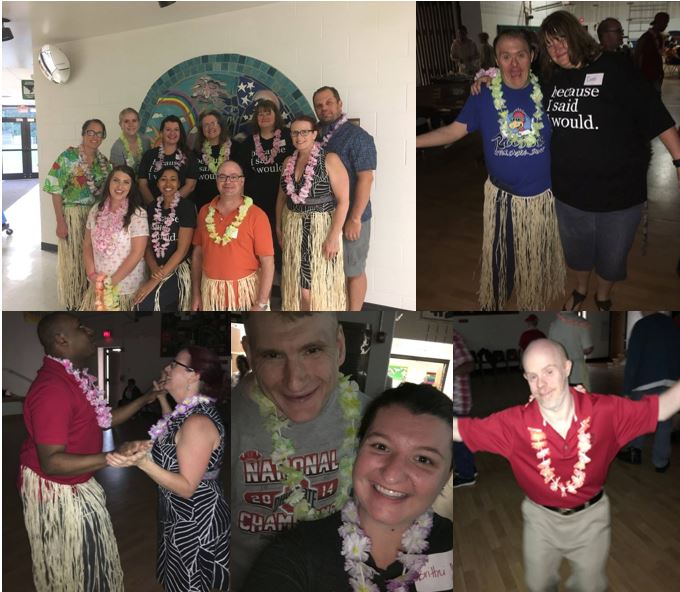 Building Bikes for Foster Children
Foster care children move 1 to 2 times EACH YEAR. New school. New classes. Hopefully new friends. Each move makes it harder to graduate. Members of Because I said I would Columbus wanted to make life a little easier for kids struggling through these challenges. They made a promise to purchase and assemble new bikes for foster care kids. On Saturday April 29 th  over 20 volunteers came together to keep that promise. Together we built 12 bikes for each foster kid at the Caring for Kids facility in Columbus Ohio. But that wasn't enough. As an added bonus they put together a pizza party and surprised the kids with their new rides that day. A local police officer, who was once in foster care himself, even stopped by to talk to the children about bike safety!  We deeply appreciate our Columbus chapter members, but we have to give a special thanks to Precious Singo for organizing this event.
We Kicked Butt at KICKBUTT Columbus!
Did you know that cigarette butts are the most littered item in America? A cigarette butt dropped to the ground may seem insignificant, but litter in general is one of the most difficult problems to control in Columbus, especially on entry and exit ramps leading to and from neighborhoods and city hot spot destinations. Increasing amounts of litter on a ramp entry into a neighborhood signals this as a potentially unsafe area where no one cares.
On Saturday, March 25th our because I said I would Columbus Chapter joined 600 other volunteers as part of the annual KICKBUTT Columbus event, a highway ramp cleanup. We are excited to announce that our Chapter won 1st Place for the team that collected the most bags in all categories with our twenty Chapter members. Forty teams participated and our Columbus Chapter and the Leawood Gardens Neighborhood Association took the lead with cleaning up 117 bags of litter at I-70 Exit 107 Hamilton Road.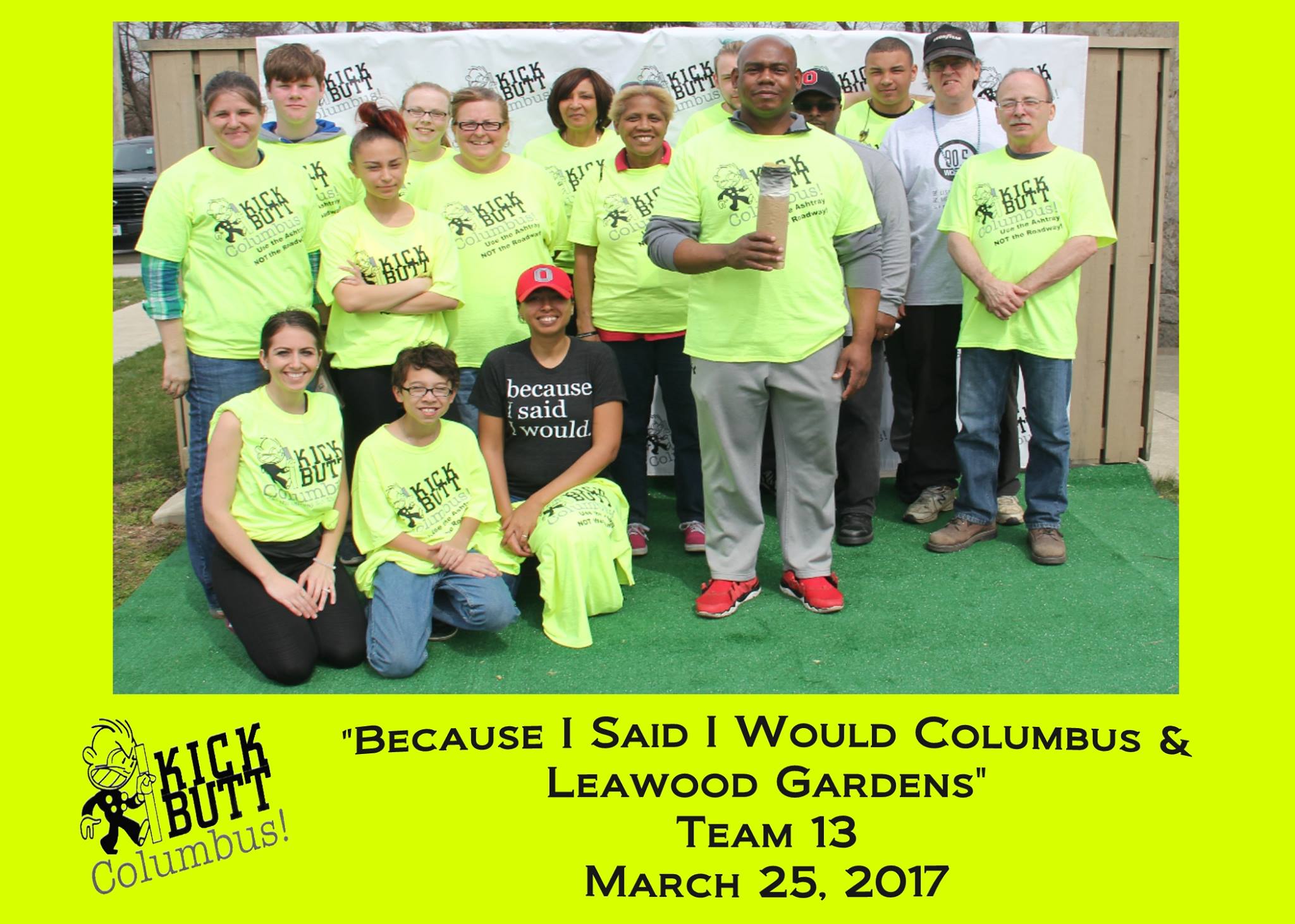 Thanks to our Columbus Chapters' participation, we were part of making this happen:
• 1,484 bags containing trash/litter were collected from the ramps equaling
 22.3 tons of litter
• 148 bags of recyclables were collected equaling 1.1 tons of material diverted from the landfill.
• 55,968 cigarette butts were collected for the 2017 event
Packing Promise Cards: More than a Piece of Paper
The world faces many challenges. In this adversity, we often hope for miracle solutions; an incredible new technology, a huge policy change or billions in funding. What if we really just needed to keep our promises? Promise Cards help people remember the importance of your commitments and goals. It might just seem like a piece of paper, but Promise Cards have motivated people to stick with their commitments to better humanity. 
For our February Unified Promise, our Chapter members came together at the Columbus Library Whitehall Branch to pack Promise Cards and be part of bettering humanity through promises made and kept. To date, 5.46 million Promise Cards have been distributed to over 153 countries. Our Chapter has been part of that motivation to help others do what they said they were going to do.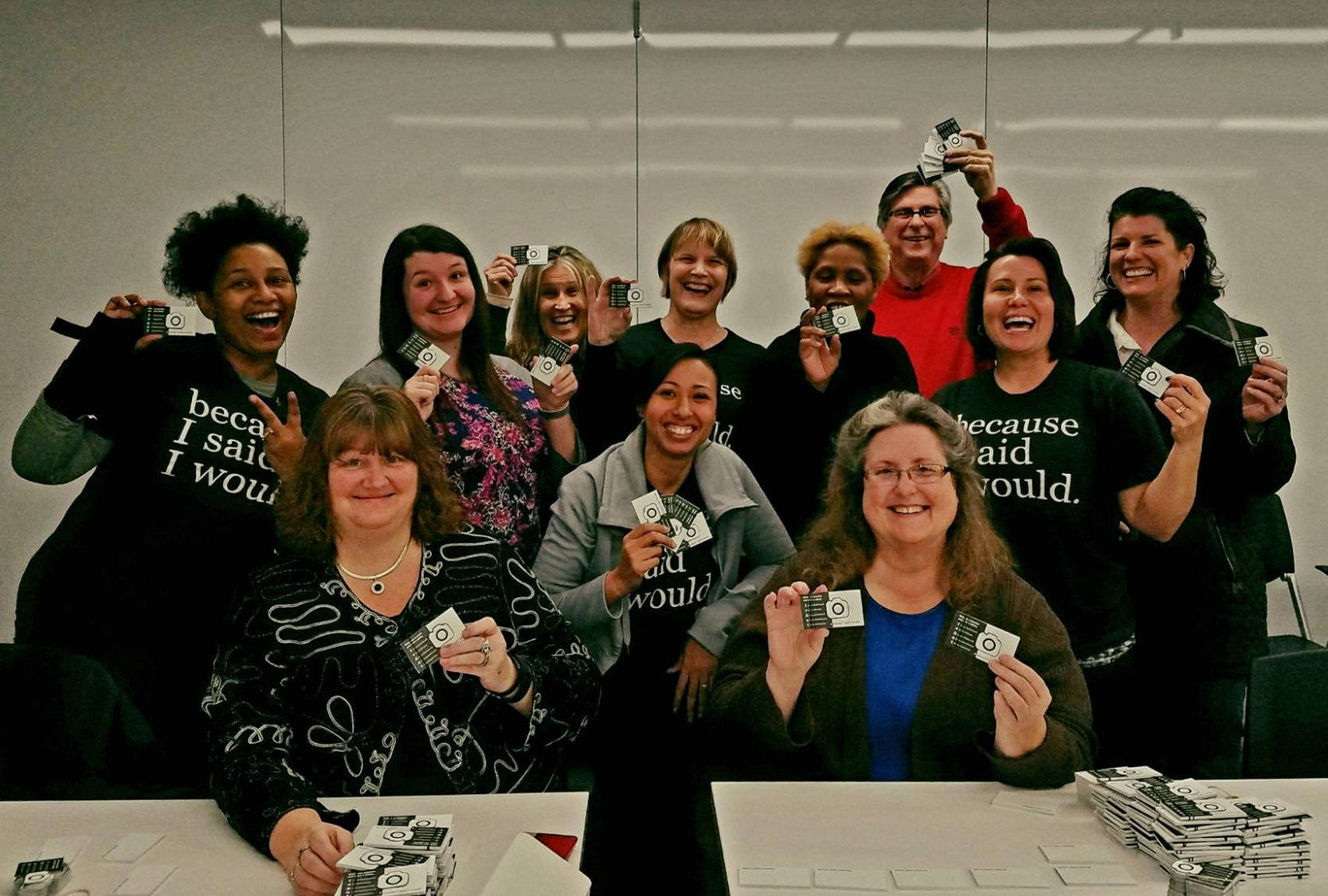 A Fresh Start: Painting a Community Refugee Classroom
Refugee children and families have lost everything they know, love, and need to survive and thrive. While the reasons and the regions may vary, the story and desperation are the same. All refugees are seeking safety, freedom, and the chance to reclaim futures for themselves and their families.

For our December Unified Promise, we had the opportunity to surprise refugees by painting their classroom and adding a welcoming mural. The refugees spend hours in this classroom -- it's their second home. This project helped to develop a learning space where refugees can learning English so they can live and work in America and job skills training to help them learn how to find and keep a job. 
Our Unified Promise was in partnership with the nonprofit organization, Ethiopian Tewahedo Social Services. Their mission is to assist immigrant and refugee families in Central Ohio improve the quality of their lives, and facilitate integration through education, training, supportive services, and self-development opportunities. "Tewahedo" means "come to unity" or "to become one" in the ancient Ethiopian language. It represents their philosophy that all humanity is one and that this oneness creates a responsibility to help the community of which we are a part.
Join today!
Make a difference in your community!