2nd Annual KickButt Columbus: Cleaning up our Community 
Did you know that cigarette butts are the most littered item in America? A cigarette butt dropped to the ground may seem insignificant, but litter in general is one of the most difficult problems to control in our city, especially on entry and exit ramps leading to and from neighborhoods and city hot spot destinations.

To help make a difference the Columbus Chapter adopted a ramp to clean up during the KickButt Columbus Trash Clean Up for our 2nd Year in a row!
Together 24 volunteers braved the cold temperature to clean up our highway ramp. We were able to pick up 76 bags of trash at the Jame Road exit ramps! Each and every item picked up helped make a difference.  Thank you to everyone who helped pitch in and clean up our community! 
Serving Those Who Served Our Country: Bingo & Dinner for Veterans
"We owe the greatest debt to our veterans. We made them a promise: if you protect us, fight our wars, and keep us safe in our beds at night, we will take care of you when your time in uniform is done. We need to keep our promise. They kept theirs."-Marc Deal,Executive Director for Veterans Resource Centers of America. 

There are 30 million veterans in the US, and over 1 million in Ohio alone. Our service men and women face many challenges as they reenter into civilian life. Together as a Chapter we wanted to show them our appreciation and help give back .
For our February Unified Promise 24 volunteers joined us as we hosted fun evening of bingo and dinner for the Veterans staying at the Commons at Livingston. This is permanent supportive housing community for disabled and formerly homeless veterans in the Columbus community.
We want to thank all our volunteers for helping host this wonderful event for the Veterans, they seemed to truly enjoy themselves and had a blast playing bingo and socializing for the evening. We were just happy to bring a little happiness to their day! 
Comfort Food: Serving a Meal at Ronald McDonald House
It is hard to live with any type of normalcy when your child is ill. The stress of being away from home, dealing with tests and treatments, makes everyday life difficult. Many families travel far from home and spend several weeks or months to get treatment for their seriously ill or injured children – a long time to be away or to divide a family. And, for children facing a serious medical crisis, nothing seems scarier than not having mom and dad close by for love and support. A Ronald McDonald House provides a place for families to call home so they can stay close by their hospitalized child at little to no cost. The Columbus Chapter of because I said I would teamed up with Ronald McDonald, to help these families by serving a home cooked meal to them. For our January Unified Promise,  15 volunteers joined us as we served a meal to over 50 families staying at Ronald McDonald House in Columbus. Serving a meal to these families and making their day a bit brighter was so worth the time and effort we put in to making this meal!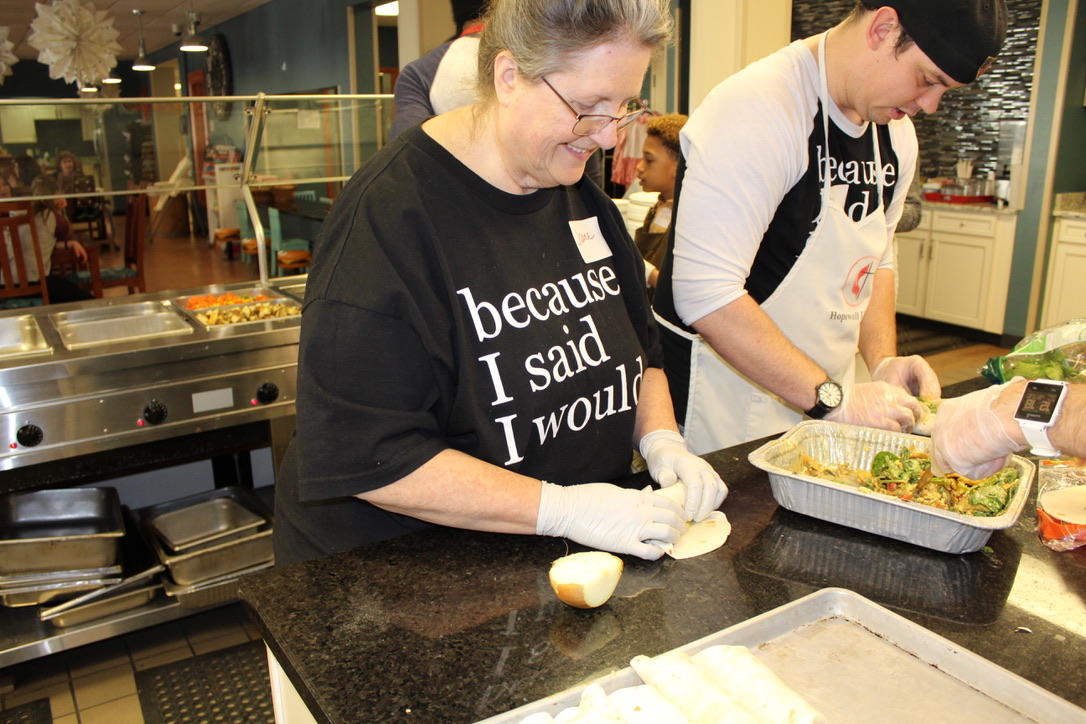 . 
Turning Houses Into Homes: Volunteering at the Furniture Bank
All men, women and children deserve a place to call their own. For many that is something they are working towards-individuals transitioning out of homelessness,men, women and children escaping abusive situations, refugees, and those living with a disability. Furniture plays a powerful role in our lives even if we do not always recognize it. Just try studying for an exam, resting after a hard day's work, preparing a meal, or raising a family without it. Thankfully there are organizations that work to help these individuals- but they need our support as well!
Together 11 volunteers of the Columbus Chapter did just that. We spent our Saturday morning volunteering at the Furniture Bank of Central Ohio. We volunteered at their Furniture with a Heart Thrift Store, where donations are brought in to be sorted, cleaned or assembled. We spent the the day supporting their efforts to provide furniture to those in need in the Columbus community.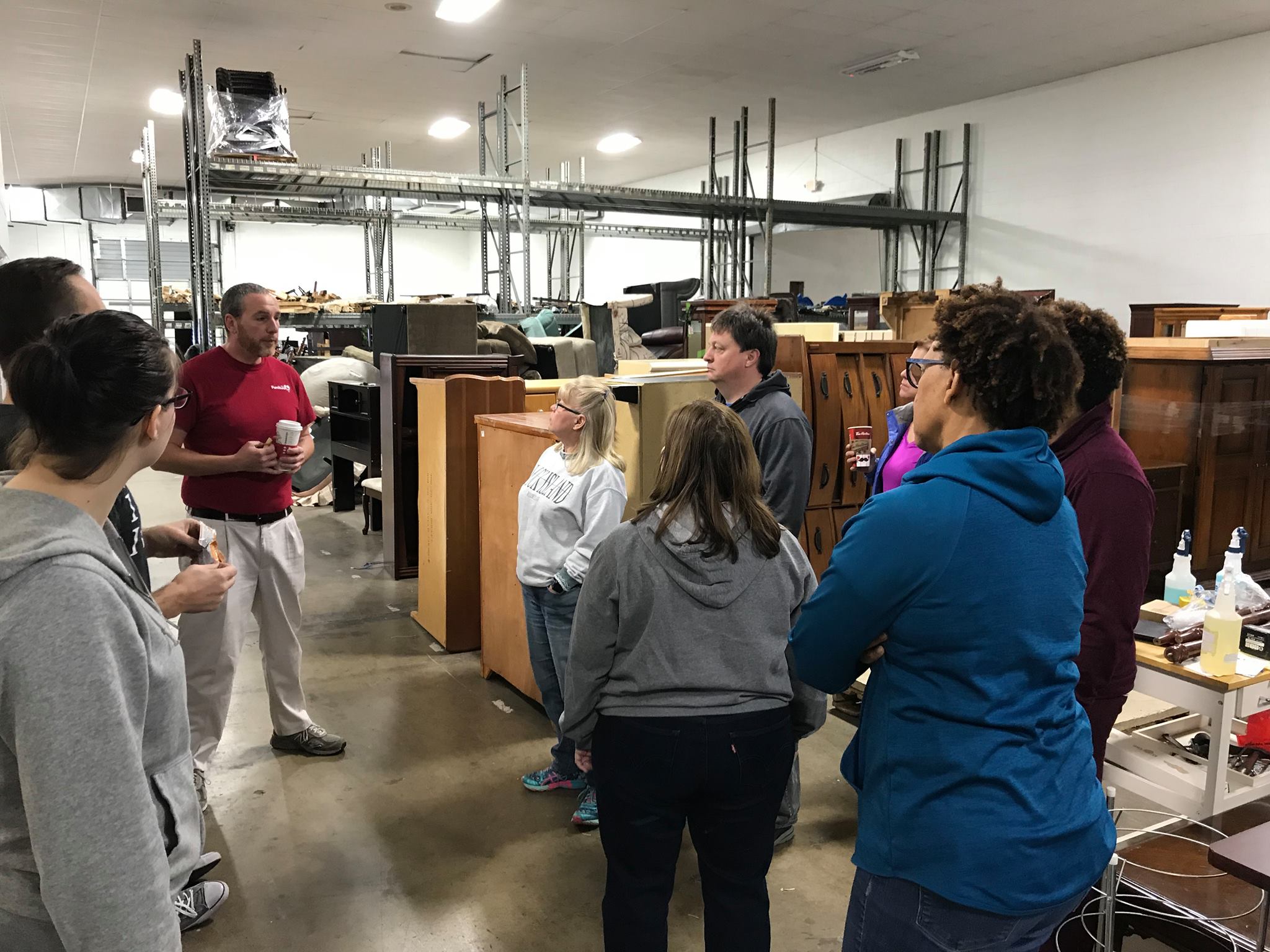 Give Warmth: Making Blankets for the Homeless 
Seven hundred people experiencing or at risk of homelessness are killed from hypothermia annually in the United States. Forty-four percent of the nation's homeless are unsheltered. From the urban streets of our populated cities to the remote back-country of rural America, hypothermia - or subnormal temperature in the body - remains a leading, critical and preventable cause of injury and death among those experiencing homelessness.The Columbus Chapter wants to do something to help. 

 As the cold weather arrives and temperatures drop, the demand for blankets and cold weather items rise. Homeless individuals and the shelters that serve them have a constant need for blankets Together as a Chapter we had over 50 volunteers donate their time to make fleece no sew blankets for the homeless in Columbus! We were able to make and donate over 44 blankets to those without shelter!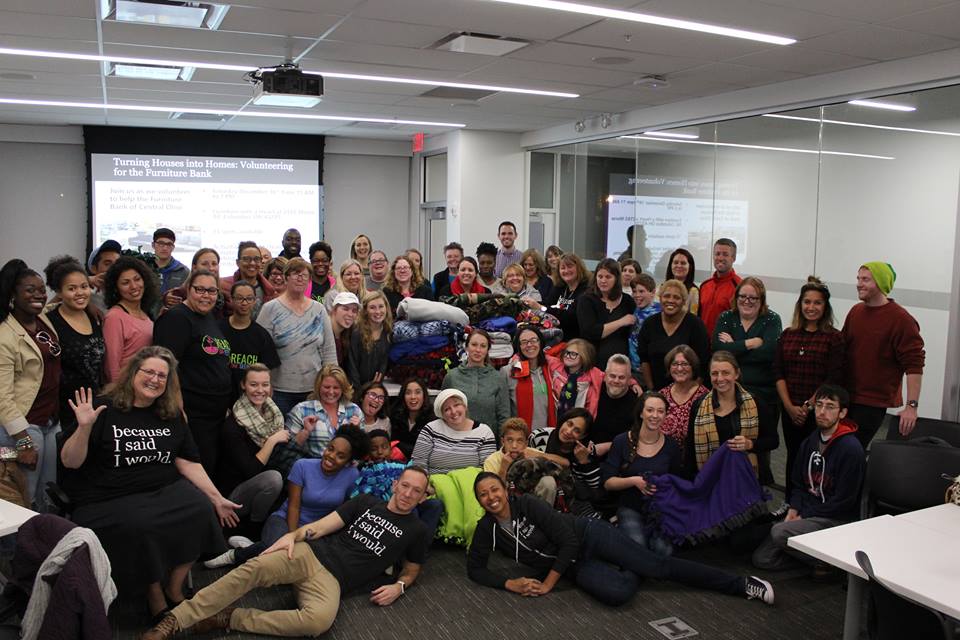 Monster Mash: Halloween Party for Seniors
As a child, we are taught the importance of socialization. This doesn't change as we age, yet too many senior citizens end up feeling alone.The psychological importance of nursing home activities are therapeutic; engaging in something fun can energize residents, and even help with depression. The Columbus Chapter threw  a party at a local nursing home to celebrate Halloween and have fun with the senior residents! We played games, and had a great time lifting the moods and spirits of the residents of Forrest Hills Nursing Home!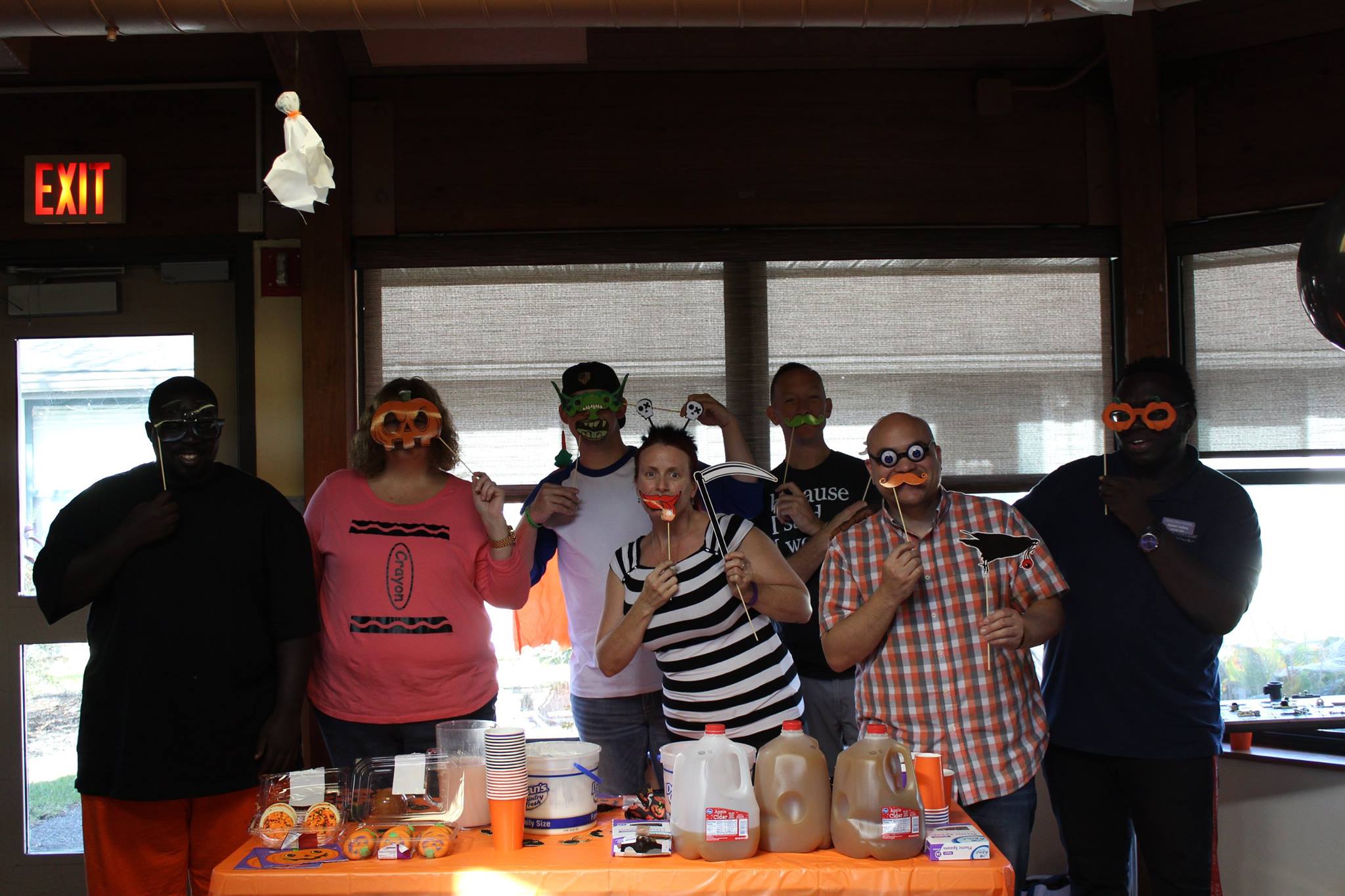 Take the Rake: Helping a Neighbor in Need
People that suffer with chronic pain typically do so quietly, right next to us without us ever knowing. They are living with an invisible illness, showing no outward signs of their illness but suffering silently. Living with chronic pain conditions such as fibromyalgia, and Multiple Sclerosis often turns into depression, isolation, and the inability to complete what used to be easy for them. .
As a Chapter we aimed to do something about this! Together we were able to help 2 families suffering from these invisible illnesses by "taking the rake" and cleaning up their yards! They were truly appreciative of our help and we were glad to make their lives even just a little bit easier. To top it all off we added a because I said I would yard sign as well!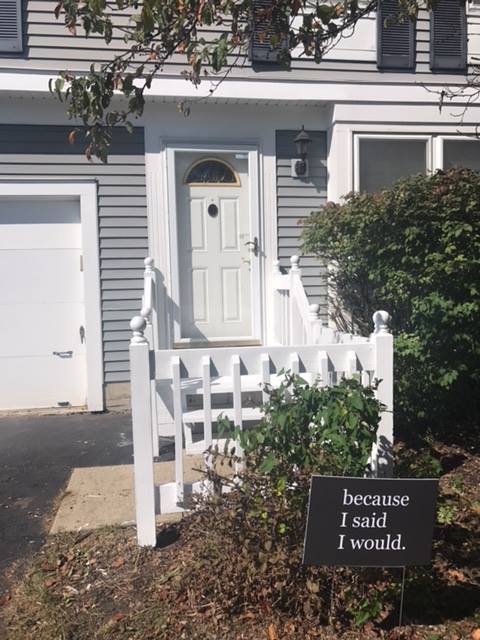 A Look Around Town : Raising Awareness for Missing Persons
Approximately 2,300 Americans are reported missing—every day. This includes both children and adults. This does not include Americans who have vanished in other countries, individuals who disappear and are never reported, or the homeless and their children.

Even more heartbreaking is that there are as many as 100,000 active missing persons cases in the U.S. at any given time. . According to the Ohio Attorney General there are currently over 1,000 missing individuals in Ohio alone. So what can you do to help the thousands of families missing a loved one? 
The Columbus Chapter decided to help raise awareness about the missing persons in our area by hanging up and passing out flyers around town. Volunteers each took a different route and we were able to cover different areas of the city!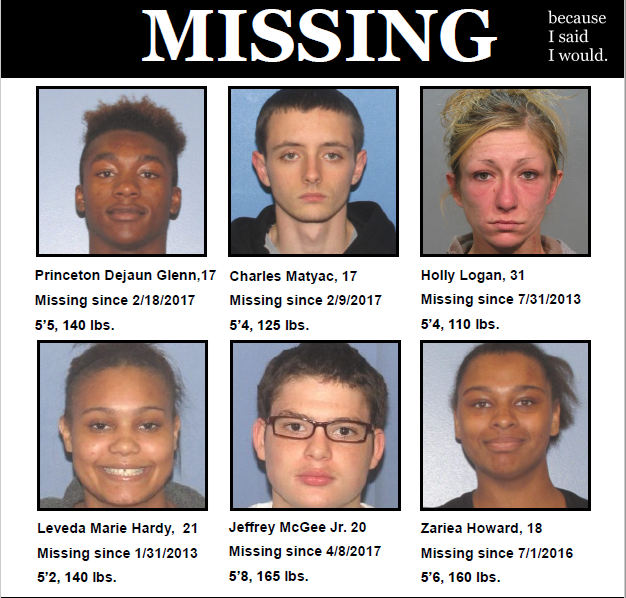 Turning  a New Page: Book Drive for the Homeless
With the constant stress of homelessness in their everyday life, many homeless individuals turn to unhealthy habits to deal with their stress, such as substance abuse, smoking and alcohol dependency. However reading is a healthy, alternative way to deal with stress with studies that show that reading can reduce overall stress by 68%!

Unfortunately, people experiencing homelessness have limited access to a library and without a permanent address they are unable to get a library card, eliminating yet another resource for them. By making literature available to the homeless, we are providing an alternative choice to help them deal with stress and their mental health. 
So together as a Chapter we decided to host a book drive for homeless individuals at a local shelter. We had 750+ books donated for the event. Each person was able to select their favorite books and we had so many they could have more than one! This was such a rewarding event and great to see so many smiles.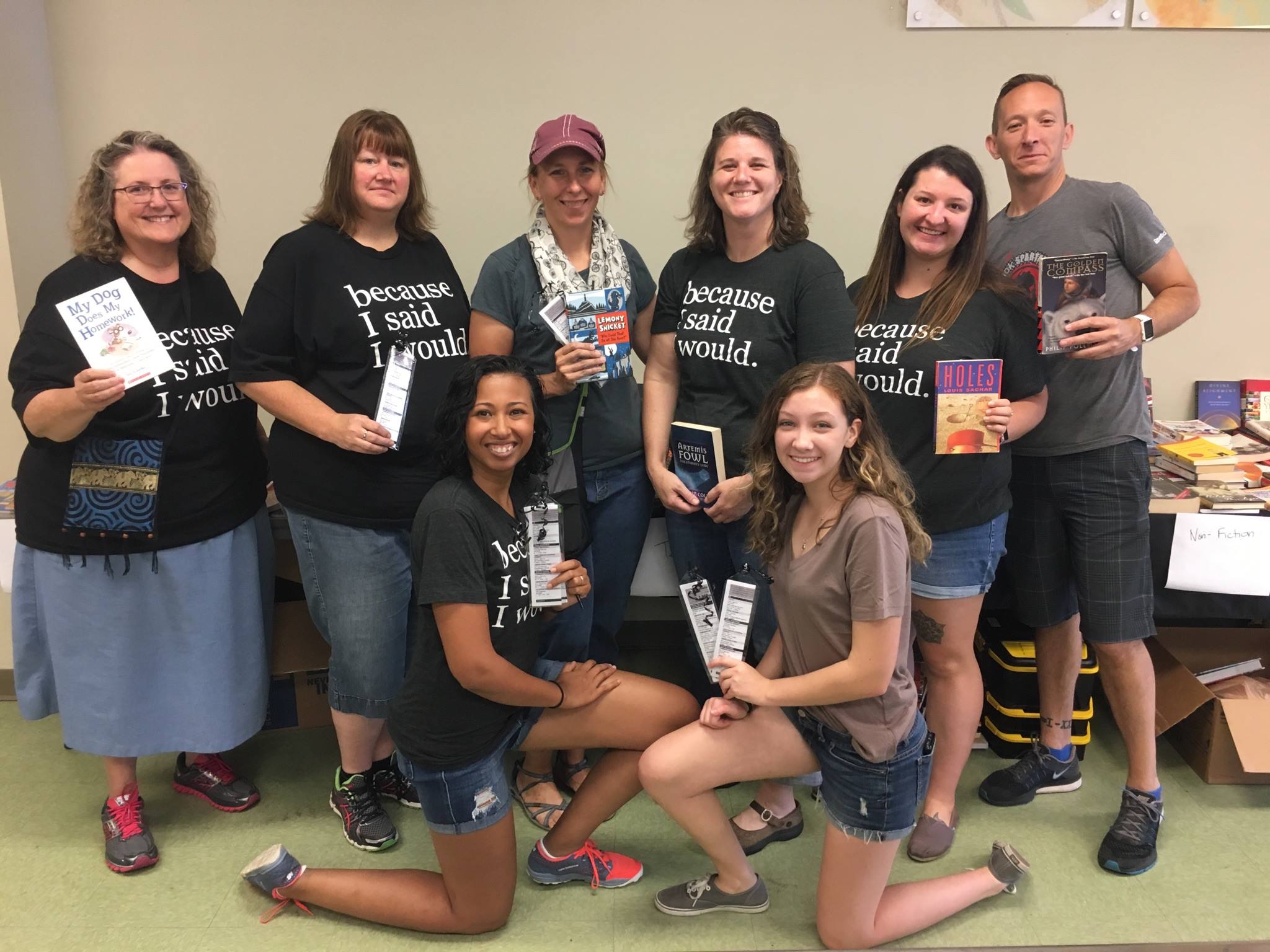 Have a heart: save a life: CPR Certified!
Did you know that effective bystander CPR provided immediately after sudden cardiac arrest can double or triple a victim's chance of survival? Unfortunately,so few people are equipped to perform CPR that only 32% of victims receive the immediate CPR needed until first responders arrive to help. 
The Columbus Chapter did something to change that. On June 15th we invited Chapter Members to become CPR Certified for free for our June Unified Promise.
We are so excited by the turnout for this event, where 18 individuals were able to become CPR certified. Chapter Members were able to learn CPR, AED usage and other life saving skills such as the heimlich maneuver. A big thank you to our instructor, Chris Biasella, for being such an excellent teacher. 
By getting 18 individuals CPR certified we have given them the tools and knowledge to save a life in the future!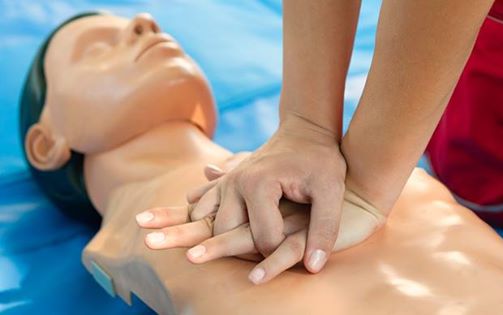 Dance with Disability: Luau Party
Volunteers joined the Franklin County Recreation residents for a night of fun, food and dancing. Together 15 volunteers and close to 75 residents dressed up in leis and grass skirts and hit the dance floor. Residents and volunteers enjoyed pizza and a live DJ at our Friday Night Luau Party. Guests played limbo and enjoyed one another's company. Many of these residents do not get the socialization that many of us do, so we were so glad to be able to spend a Friday night creating memories with them.
A big thank you to everyone who attended this event and helped us make a difference in the lives of these residents. We have heard nothing but great reviews about this Unified Promise and we are so happy to hear everyone enjoyed it so much!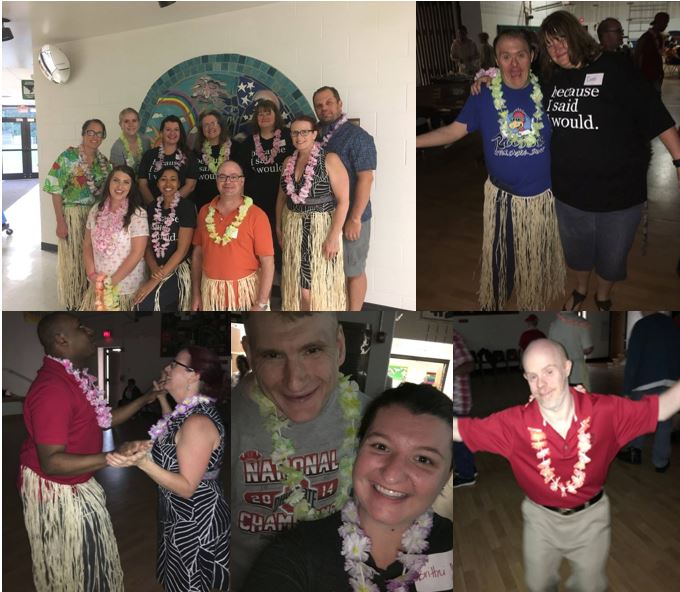 Building Bikes for Foster Children
Foster care children move 1 to 2 times EACH YEAR. New school. New classes. Hopefully new friends. Each move makes it harder to graduate. Members of Because I said I would Columbus wanted to make life a little easier for kids struggling through these challenges. They made a promise to purchase and assemble new bikes for foster care kids. On Saturday April 29 th  over 20 volunteers came together to keep that promise. Together we built 12 bikes for each foster kid at the Caring for Kids facility in Columbus Ohio. But that wasn't enough. As an added bonus they put together a pizza party and surprised the kids with their new rides that day. A local police officer, who was once in foster care himself, even stopped by to talk to the children about bike safety!  We deeply appreciate our Columbus chapter members, but we have to give a special thanks to Precious Singo for organizing this event.
We Kicked Butt at KICKBUTT Columbus!
Did you know that cigarette butts are the most littered item in America? A cigarette butt dropped to the ground may seem insignificant, but litter in general is one of the most difficult problems to control in Columbus, especially on entry and exit ramps leading to and from neighborhoods and city hot spot destinations. Increasing amounts of litter on a ramp entry into a neighborhood signals this as a potentially unsafe area where no one cares.
On Saturday, March 25th our because I said I would Columbus Chapter joined 600 other volunteers as part of the annual KICKBUTT Columbus event, a highway ramp cleanup. We are excited to announce that our Chapter won 1st Place for the team that collected the most bags in all categories with our twenty Chapter members. Forty teams participated and our Columbus Chapter and the Leawood Gardens Neighborhood Association took the lead with cleaning up 117 bags of litter at I-70 Exit 107 Hamilton Road.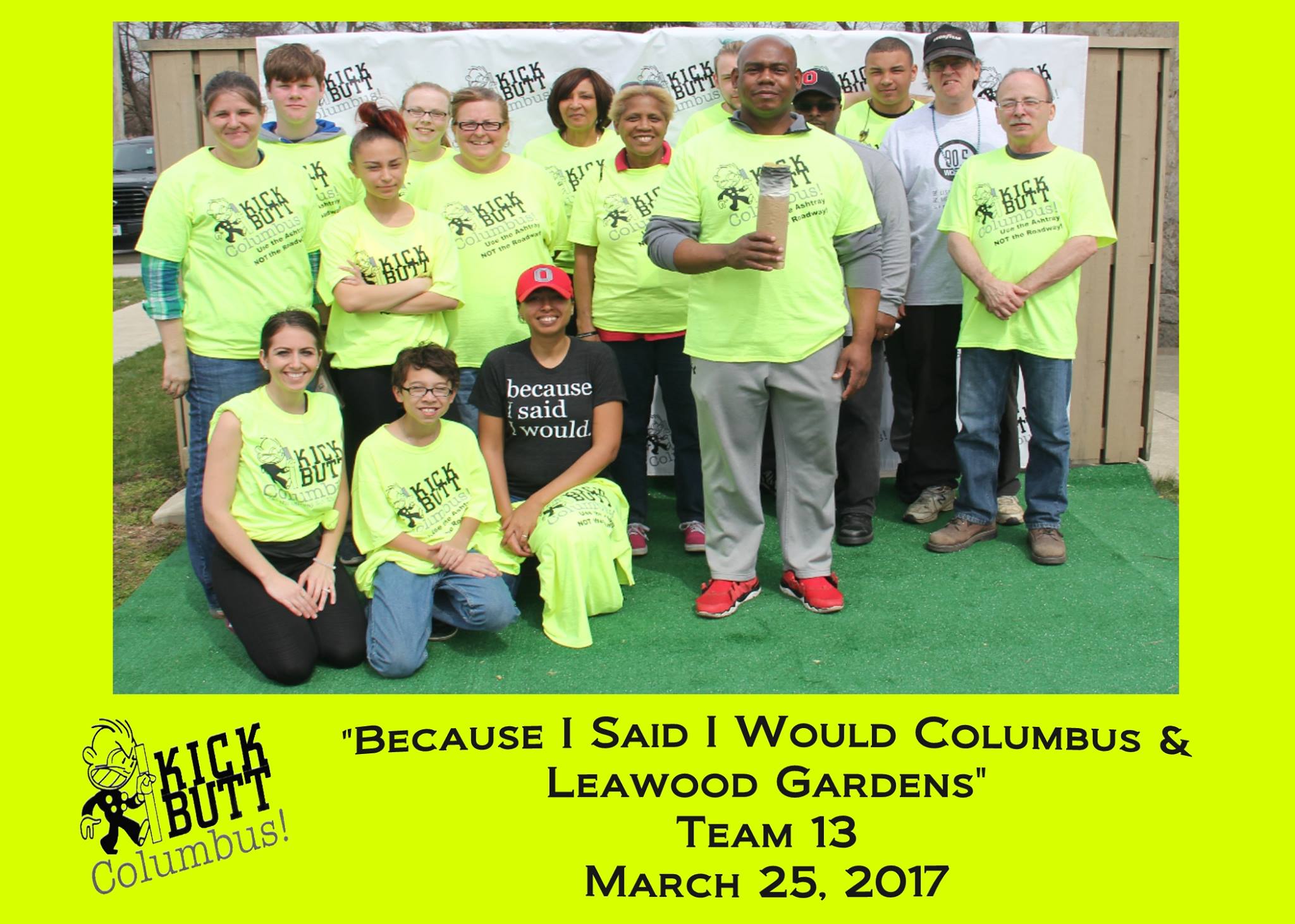 Thanks to our Columbus Chapters' participation, we were part of making this happen:
• 1,484 bags containing trash/litter were collected from the ramps equaling
 22.3 tons of litter
• 148 bags of recyclables were collected equaling 1.1 tons of material diverted from the landfill.
• 55,968 cigarette butts were collected for the 2017 event
Packing Promise Cards: More than a Piece of Paper
The world faces many challenges. In this adversity, we often hope for miracle solutions; an incredible new technology, a huge policy change or billions in funding. What if we really just needed to keep our promises? Promise Cards help people remember the importance of your commitments and goals. It might just seem like a piece of paper, but Promise Cards have motivated people to stick with their commitments to better humanity. 
For our February Unified Promise, our Chapter members came together at the Columbus Library Whitehall Branch to pack Promise Cards and be part of bettering humanity through promises made and kept. To date, 5.46 million Promise Cards have been distributed to over 153 countries. Our Chapter has been part of that motivation to help others do what they said they were going to do.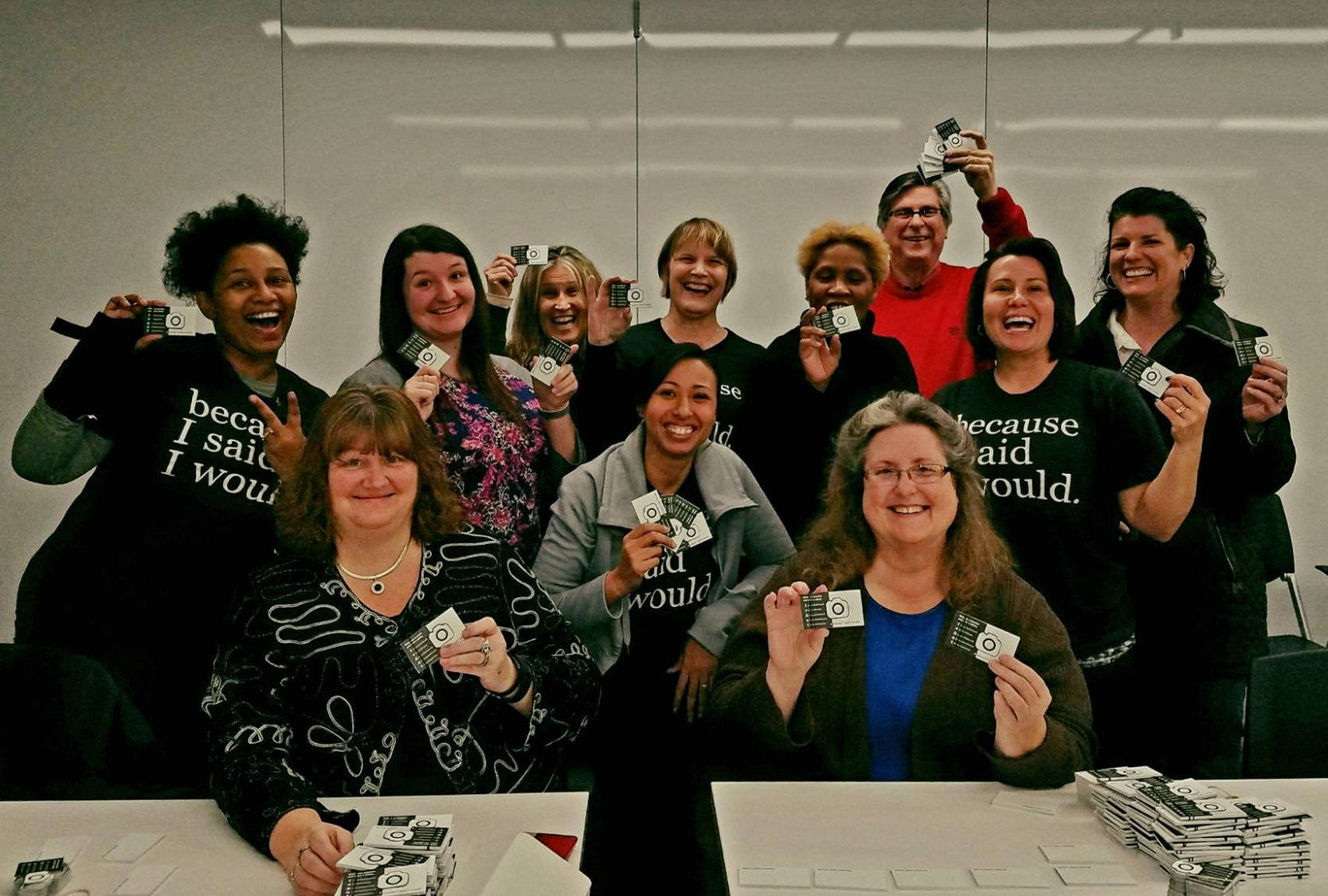 A Fresh Start: Painting a Community Refugee Classroom
Refugee children and families have lost everything they know, love, and need to survive and thrive. While the reasons and the regions may vary, the story and desperation are the same. All refugees are seeking safety, freedom, and the chance to reclaim futures for themselves and their families.

For our December Unified Promise, we had the opportunity to surprise refugees by painting their classroom and adding a welcoming mural. The refugees spend hours in this classroom -- it's their second home. This project helped to develop a learning space where refugees can learning English so they can live and work in America and job skills training to help them learn how to find and keep a job. 
Our Unified Promise was in partnership with the nonprofit organization, Ethiopian Tewahedo Social Services. Their mission is to assist immigrant and refugee families in Central Ohio improve the quality of their lives, and facilitate integration through education, training, supportive services, and self-development opportunities. "Tewahedo" means "come to unity" or "to become one" in the ancient Ethiopian language. It represents their philosophy that all humanity is one and that this oneness creates a responsibility to help the community of which we are a part.
Join today!
Make a difference in your community!