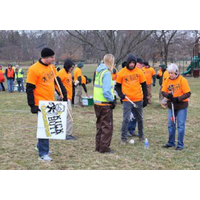 The Point of No Return Analysis

Circumstances in life inevitably change, and things don't always go as planned. So, instead of panicking, not showing, or breaking your commitment, you need to recognize your Point of No Return and take action.

At this month's Meetup, members learned how to take the necessary steps to identify, avoid and prepare for reaching this point.

To help members get better at creating and keeping their promises, they performed an interactive exercise as a group with different Point of No Return scenarios.

Want to try it for yourself? Download our "Point of No Return" exercise sheets below.
"The Biggest Promise"

This month's promise story features a supporter who made one of the biggest commitments one can make- to get married. Despite her hesitations, the wedding was planned, the dress was bought, the invites were sent out. Watch the ending of her story to see what happens when you pass the Point of No Return!

CLICK HERE TO WATCH "THE BIGGEST PROMISE" VIDEO

This video is part of a series of promise stories from the lives of everyday people. We believe a video can convince people around the world to make a promise to better humanity. We believe this series, titled "A promise story," will inspire our followers to share their stories with us.











Honoring Our Members

On March 15h, we met for our monthly Meetup where learning, interacting, and fun was evident. It was exciting to see both new and returning members in the room!

Four of our members were awarded their Second Meetup Achievement Badge for completing the task of attending two Chapter Meetups. Congrats and thank you for your continued commitment!

We sincerely thank everyone for showing up and supporting our Chapter Program! Check out all the photos from the Meetup at the link below and feel free to tag yourself.


CLICK HERE TO SEE MORE PHOTOS!
Reminder! Let's KickButt Columbus

Did you know that cigarette butts are the most littered item in America? A cigarette butt dropped to the ground may seem insignificant, but litter in general is one of the most difficult problems to control in our city. The litter accumulation is most disturbing after winter thaw.

Join us on March 25th at Wolfe Park, as we support KickButt Columbus, an annual spring highway ramp cleanup for our March Unified Promise. We need the commitment of 20 volunteers from 9 AM- 2 PM.

This project is in support of Keep Columbus Beautiful. Keep Columbus Beautiful focuses on public education and volunteer service related to quality of life environmental issues including litter, recycling and beautification. Food will be provided. Please wear something comfortable and warm. Hope to see you there!
Build-a-Bike for Local Foster Children


Most teens have a means of transportation. Most kids in foster care do not.Children deserve special childhood moments. At such a vulnerable time in their lives, these children need your help. For some it's a childhood memory they will never forget; for others it's their only means of transportation.


Consider these startling facts:

There are an estimated 400,000 kids in foster care right now.

Some of foster children experience multiple placements. In some cases, eight or more.

Foster kids can suffer from PTSD at almost two times the rate of returning veterans.


Let's bring new bicycles to youth experiencing the foster care system. Join us April 29th from 1:00 pm to 4:00 pm as we build 12 bicycles for every child in the Caring for Kids Adoption & Foster Care Agency. No building experience required!

This Unified Promise is in support of Caring for Kids, a private, nonprofit adoption, foster care and home study agency licensed in the state of Ohio. Founded by former foster care parents in 1995, Caring for Kids, Inc. believes that every child, regardless of gender, race, nationality or special need deserves a family.
Needed: Columbus Leadership TeaM

We a

re still looking for volunteers to help fill leadership positions for the Columbus

Chapter!



Columbus Chapter Leader

Help establish and maintain community partnerships

Manage leadership team

Public speaking and meeting management

Fill in the gaps

Video & Photography Volunteer

Collect content for the local Chapter & Unified Promises

Determine best practices

Capture Chapter members' individual promise stories

Communications Volunteer

Promote chapter through partnerships

Manage social media page

Event marketing
---