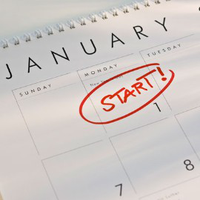 The History of the New Year Promise

Every year millions of people around the world make their New Year's resolutions. But where did the tradition originate?

At this month's Meetup we discussed the history of the New Year's Promise, and completed an exercise to help generate ideas for New Year's resolutions. Good promises take planning and careful consideration, so the exercise was designed to help members come up with meaningful ideas for their New Year's Promise.


Feeling unsure about what you want to commit to in the New Year? Try the New Year's Promise Idea Generator yourself! Click below to download the sheet!

CLICK HERE TO VIEW NEW YEAR'S PROMISE IDEA GENERATOR EXERCISE



| | | |
| --- | --- | --- |
| | | |
"There is no option."- A promise story

This month's featured promise story told the story of supporter Joel and his determination to change his life. Joel was born with a congenital heart condition that made exercise difficult ever since he was a child. He felt like he didn't have control of his life, so he would find comfort in something he could control: Eating.

Joel was 420lbs at the time this video was recorded. His food addiction had spiraled out of control, but he said it wasn't fair to his friends and family. He said "There is no option." If he wanted to be around to help people who needed him, the change must happen now.


Watch Joel's story to see the promise he made to his family and friends.

CLICK HERE TO WATCH "THERE IS NO OPTION" VIDEO

This video is part of a series of promise stories from the lives of everyday people. We believe a video can convince people around the world to make a promise to better humanity. We believe this series, titled "A promise story," will inspire our followers to share their stories with us.

Looking for our other 90+ videos? CLICK HERE











| | | |
| --- | --- | --- |
| | | |
Fresh Start: Painting a Community Refugee Classroom

On Saturday December 17th, 2016 the Columbus Chapter of because I said I would had the opportunity to surprise refugees by painting their classroom and adding a welcoming mural as a part of our global Unified Promise. The refugees spend hours in this classroom -- it's their second home. This project helped develop a learning space where refugees can work to learn English as well as job skill training to help better their lives in America.

Refugee children and families have lost everything they know, love, and need to survive and thrive. While the reasons and the regions may vary, the story and desperation are the same. All refugees are seeking safety, freedom, and the chance to reclaim futures for themselves and their families.


A huge thank you to all of our volunteers for attending this event and making it a success. Want to see photos? Check out the because I said I would Columbus Facebook page for pictures from Chapter Meetups and Unified Promise events!



| | | |
| --- | --- | --- |
| | | |
Delete Blood Cancer: Bone Marrow Registration

Every four minutes someone in the United States is diagnosed with a blood cancer like leukemia. For many, their only hope for a cure is a bone marrow transplant. It only takes four minute to register to potentially save a life!

For our January Unified Promise, we asked our Chapter members to sign up during our Meetup for the National Bone Marrow Registry. The registration table encourages people to swab their cheeks and fill out the paperwork for this important lifesaving cause, promising to donate bone marrow if it is determined they are a match for someone in need.

This Unified Promise was inspired by Sam and Alex Kimura, two girls who sold their cars, bought a van and toured the country trying to save lives through this registry. See their story HERE.

We thank our members for signing up and committing to save a life! Every new donor on the registry brings hope to patients who are still waiting for their match. To find out more information about eligibility requirements and how a bone marrow donation works, please click below.



| | | |
| --- | --- | --- |
| | | |
Where the Movement Began: Help Pack Promise Cards

5.46 million.

That is the number of Promise Cardsbecause I said I would has distributed to over 153 countries, by request only.Promise Cards were handed out for the first time in 2012 at because I said I wouldFounder, Alex Sheen's, father's funeral. He was an average man but there was one thing he did exceptionally well; he was good at keeping his promises.

The world faces many challenges. In this adversity, we often hope for miracle solutions; an incredible new technology, a huge policy change or billions in funding. What if we really just needed to keep our promises? Report child abuse. Volunteer. Stay in rehab. Graduate from high school. Recycle. Sometimes we don't need a miracle solution. Sometimes we just need people to do what they said they were going to do.

Promise Cards help people remember the importance of your commitments and goals. It might just seem like a piece of paper, but Promise Cards have motivated people to stick with their commitments to better humanity.

Join us as we sort and pack Promise Cards and be part of bettering humanity through promises made and kept. We need 20 volunteers to help on Wednesday, February 15th from 6:30-8:30PM at the Whitehall Library Branch.



| | | |
| --- | --- | --- |
| | | |
Member Recognition

Members who have attended both Chapter Meetups were awarded

their Second Meeting Achievement Badge!

We thank them for their commitment to our Chapter Program and congratulate them on their achievement. Check out all the photos from the Meetup at the link below and tag yourself in any photos!

CLICK HERE TO VIEW MEETUP PHOTOS



Needed: Columbus Leadership

We are still looking for volunteers to help fill leadership positions for the Columbus Chapter! All applicants are considered until the roles are filled.

Columbus Chapter Leader

Help establish and maintain community partnerships

Manage leadership team

Public speaking and meeting management

Fill in the gaps

Collect content for the local Chapter & Unified Promises

Determine best practices

Capture Chapter members' individual promise stories

Pick up food and supplies

Arrange for printed materials

Meeting set up

Event coordination

Promote chapter through partnerships

Manage social media page

Event marketing
---